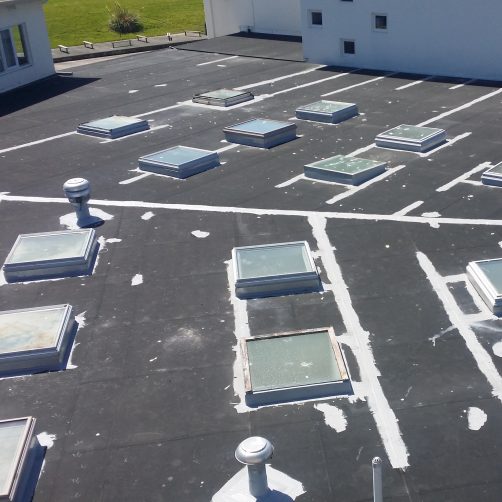 Butynol is a protective substance commonly used in New Zealand, on flat surfaces like roofs and decks. You'll find butynol on many different kinds of buildings, from homes to schools and commercial offices. But what does it do, how long does it last, and how do you know if it has started to break down?
WHAT IS BUTYNOL?
Butynol is a New Zealand-made product that's used on commercial and residential buildings. Essentially it's a rubber membrane that acts as a waterproof covering to protect surfaces like flat roofs and decks from the elements. It's particularly common in windy areas like Wellington, where many buildings have flat roofs, and large area commercial structures. Butynol is a great product, and does its job well, but like any rubber product it does break down over time.
HOW CAN I TELL IF MY BUTYNOL HAS STARTED TO BREAK DOWN?
If you want to know how your butynol is doing, there are a few key signs to look out for. One of the first symptoms of broken-down butynol is chalkiness. If you find a chalky black powder on your feet when you walk over your surface, this is a sign that the butynol isn't in tip-top condition. Another symptom to look for is 'bubbling' – this is where the butynol has started floating off the timber because the glue that should be securing it has broken down. You may also find old nails coming up through your butynol, or perhaps you can see some cracks and splits. If your butynol is showing any of these signs, it's time to get it checked by a professional.
WHAT'S THE BEST WAY TO FIX MY BUTYNOL ROOF OR DECK?
There are a few different ways you can fix your butynol surface. Some companies will suggest replacing the entire roof or deck, but this is a costly and disruptive job that can often be avoided. In many cases the plywood underneath the butynol is still in good condition, so it's not necessary to do a full replacement. Another remedy is to replace the butynol, but this can also be pricey. Don't forget too, when your new butynol is exposed to the same harsh conditions it will end up suffering the same problems in the future.
A more effective, long-term solution (that won't cost an arm and a leg) is to get DURAPROOF. in, to repair the butynol and then coat it with a protective layer of Duraflex to safeguard it against future damage.
REPAIRING A BUTYNOL ROOF OR DECK
There are a few common repairs that need to be made to a butynol roof or deck to get it back into good condition. Because in most cases the glue that attaches the butynol to the timber has broken down, one key repair is to re-establish that bond by re-glueing. If your butynol has cracks and splits, then these will need to be mended as well. Any nails that are coming through the surface will also need to be taken out and replaced with stainless steel screws. All these repairs are cost-effective and can be done with very little disturbance to your home, school or business.
LONG-TERM BUTYNOL PROTECTION WITH DURAFLEX
Once all the necessary repairs have been made to your surface, it's time for the final and most important step – adding a protective layer of Duraflex. It is a hardwearing, waterproof coating which is sprayed on top of the butynol to add a durable layer of protection. It's proven to guard against all the elements, and will ensure your butynol roof or deck will have a much greater life expectancy. It also comes with a 15-year guarantee.
If you'd like to find out how DURAPROOF. can help repair and protect your commercial property or home, then please get in touch today.
---