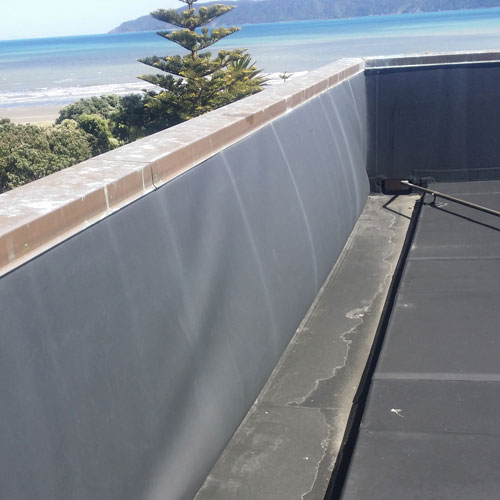 Rubber membrane is a commonly used product applied to many flat roofs and decks throughout New Zealand. It's particularly popular in Wellington, where many buildings have flat roofs to protect them from the high levels of wind. But like any rubber product, it doesn't last forever. So how do you know how your Rubber membrane roof is faring? Read on for our top 5 signs that your Rubber membrane roof needs some attention.
MY RUBBER MEMBRANE ROOF SURFACE IS CHALKY
One key sign that your surface is breaking down is chalkiness. If you touch or walk across your surface and a chalky black substance gets onto your hands or feet, this indicates that your membrane is wearing. It's particularly frustrating in high-traffic areas like decks, as it can leave marks around the house or office.
THERE'S BLACK OR WHITE COLOUR RUNNING DOWN MY WALLS
Another sign that your rubber membrane has started to break down is if you have colour running down the outer walls of your home, school, or office. Rubber membrane comes in either black or white, so this is most noticeable with black rubber membrane. DURAPROOF recently worked on a building that was experiencing this problem, and they had been repainting on a regular basis to cover the black lines that were appearing down their walls. They were so relieved when DURAPROOF. quickly found the root cause of the problem. Now they don't need to keep repainting!
THE RUBBER MEMBRANE SURFACE HAS DETACHED FROM THE TIMBER ON MY ROOF
When this has detached from the timber on your roof, this is called 'bubbling'. This happens because the glue that holds the rubber membrane to the timber underneath has started breaking down. This is a sure sign that your rubber membrane surface needs some attention.
EXPOSED NAILS AND CRACKS IN MY RUBBER MEMBRANE SURFACE
If you can see old nails breaking through, or fine cracks in your rubber membrane surface, this is another key sign that your rubber membrane has begun breaking down. If these are left as-is, it can lead to more serious roof leaks.
MY RUBBER MEMBRANE ROOF IS LEAKING
The main job of a rubber membrane surface is to protect your roof against the elements. But when your rubber membrane breaks down you can develop a leak. If your home, school, office, or commercial property's roof is leaking, it's best to get this looked at as soon as possible. If a leak is left for too long, the plywood underneath the rubber membrane can get soaked through and even give way. When this happens, one of the most common fixes is to replace your roof – a much more expensive, time consuming and disruptive job.
SO WHAT SHOULD I DO IF MY RUBBER MEMBRANE ROOF IS SHOWING SIGNS OF BREAKING DOWN?
If you've noticed any of these signs on your rubber membrane roof, please get in touch with DURAPROOF. today to talk through your options. In most cases, we'll first fully repair your broken down membrane with sealants and adhesives, and replace any damaged underlying structures like plywood and purlins. Once it's fully sealed, we'll then safeguard it against future damage by coating it with a protective layer of Duraflex. It is a lightweight, hardwearing coating that protects your rubber membrane roof against the elements and ensures it will have a longer lifespan. It even comes with a 15-year guarantee. So don't hesitate, get in touch today!
---